Bridging the gap between fashion, friendship, and female empowerment, Sex and the City (SATC) was every bit as revolutionary as it was renowned. The show, which made its debut in 1998 and continued to run until 2004, effortlessly combined comedic tropes with poignant storytelling through the lens of four iconic New Yorkers, played by four iconic women. Now celebrating its 10th anniversary of the movie, Sex and the City 2 (which was filmed in Abu Dhabi), we look back at ten of our favorite moments – from witty one-liners about love to difficult lessons about life.
1. Materialism à la Manolo is materialism nonetheless
"I've spent $40,000 on shoes and I have no place to live? I will literally be the old woman who lived in her shoes!"
– Carrie Bradshaw (Season 4, ep.16)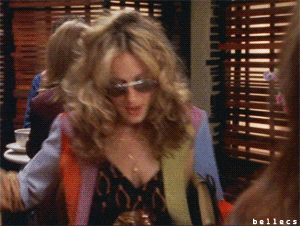 While slightly more nuanced than some of its other themes, SATC left viewers with a very real and uncomfortable understanding of the pervasiveness of materialism. Portrayed primarily through protagonist Carrie Bradshaw's shoe obsession, we watched in anticipation as the thing she loved most brought her as much pain as it did joy. From the foreshadowing of being proposed to with a pair of Manolo Blahniks, only to be jilted at the altar; to drowning the shoedrobe in her apartment in designer footwear (she definitely could not afford), only to risk being evicted from it. Bradshaw taught us that while the answer to happiness might lie in the form of a pair of shoes, maybe it shouldn't.
2. Love yourself first
"I love you, but I love me more."
– Samantha Jones (Season 5, ep. 3)
Samantha Jones' character in SATC notoriously explored self-love in a way no other television character before her had. Juxtaposed against helpless romantics; Carrie, Miranda, and Charlotte, Jones taught us to love ourselves first—notably, not in a manner that required the opening of a third eye, but through something of a messier, chaotic, more tumultuous nature. Manifested in a celebration of the disorderly as opposed to avoidance of it, Jones' love for herself was timeless—and we can't help but love her for it.
3. The choice between children and career is yours, and yours alone
"I want to enjoy my success, not apologize for it."
– Miranda Hobbes (Season 2, ep. 10)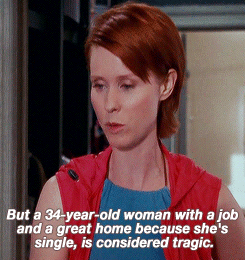 While all the women in SATC were, in one way or another, an ode to the modern, working woman, Harvard-educated lawyer Miranda Hobbes especially embodied what it meant to straddle ambitiousness in a field of archaic business ideals. Upon discovering that she was pregnant in Season 4, Hobbes taught us that it is not women with children that are a burden to businesses, but rather businesses who refuse to see their worth that are a burden to themselves.
4. Age is just a number
"I'm fifty-[expletive]-two, and I will rock this dress."
– Samantha Jones (SATC 2)
Too old for love, too old for sequins, we've heard it all before—and so had Samantha Jones. Saving only the most profound expletives for those who challenged her spirit in light of her age, Jones' character in the show frequently reconfirmed what women everywhere have always known: age really is just a number.
5. Love is messy
"I'm someone who is looking for love. Real love. Ridiculous, inconvenient, consuming, can't-live-without-each-other love."
– Carrie Bradshaw (Season 6, ep.20)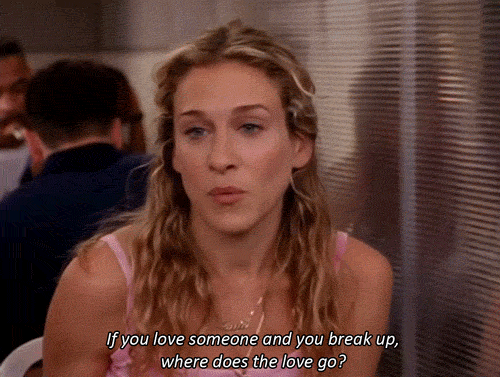 SATC pioneered the trope of romanticizing messy love in the name of personal and collective growth. Oftentimes, the women would leave unsuccessful romantic pursuits with a newfound appreciation for themselves (read: Samantha), or stay in challenging romantic pursuits with a newfound appreciation for their partner (read: Charlotte). Either way, a certain sense of bravado accompanied this chaotic realm of love, and it's one we don't mind replicating.
6. Love is worth it
"Are you saying you're just gonna give up on love? That's sick!"
– Charlotte York (Season 1, ep. 1)

With one of the most important themes of the show centered around romantic love, SATC confirmed through Charlotte York's relationships, that finding Mr. Right isn't always easy. Still, in all her optimistic glory, York discovered that difficult isn't necessarily deterring. Ending up with the sweetest, most authentic love story of them all, York taught us that in love, as is the case in life, good things always take time. But they are always worth it.
7. Perfection is so passé
"I will never be the woman with the perfect hair, who can wear white and not spill on it."
– Carrie Bradshaw (Season 3, ep. 3)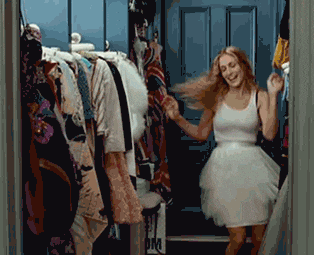 While it's true that Bradshaw and her girlfriends lived in a world void of the Valencia filter, they were no less well versed with the pressure to be perfect. From the competitive fashion world, they were immersed in either by profession or by preference, to the overwhelming city they called home, each of them embraced imperfection in their own way and in the process, left us with a few tips on how to follow suit.
8. What if we stopped what if-ing?
"Maybe the past is like an anchor holding us back. Maybe you have to let go of who you were to become who you will be."
– Carrie Bradshaw (Season 5, ep.1)
Jading memories of the past and robbing promises of the future, angst was not an uncommon occurrence in the lives of SATC's leading ladies. Yet, through heartbreak and loss, failure, and pain, they taught us time and time again to "live in the moment, laugh at the confusion and know that everything happens for a reason."
9. New York is always a good idea
"Anything is possible. This is New York!"
– Carrie Bradshaw (Season 6, ep.10)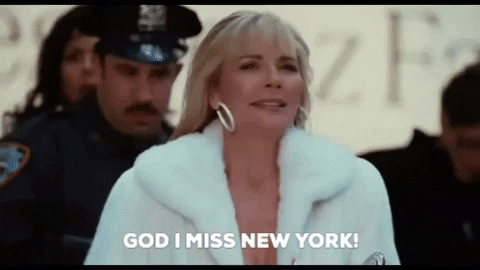 Could we really get through a list of life lessons from SATC and not mention New York? The rousing sound of people bustling, the never-ending glimmer of lights. New York was to the women of SATC what they were, and are, to us: fearless, unpredictable, and exciting. A lesson that is self-explanatory in itself; New York is always a good idea.
10. The strength of sisterhood
"We made a deal ages ago… men, babies, it doesn't matter. We're soulmates."
– Samantha Jones (SATC 2)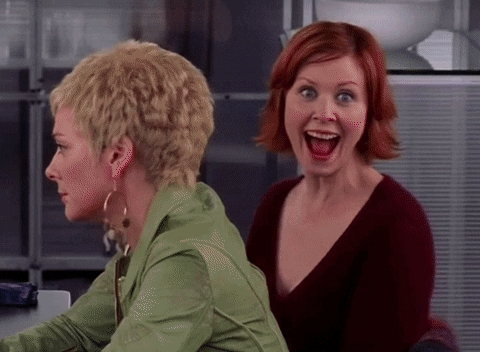 Beyond the inspiring premise of four brilliant women who refused to be in competition with one another, the friendship between Carrie, Samantha, Miranda, and Charlotte completely challenged TV's status quo. By transcending the niceties of female friendship, the women of SATC taught us how to fight hard and love harder; celebrate the good, and challenge the bad. Above all things, they taught us the extent to which friendship will heal just about anything, broken hearts, and broken bank accounts included.
Sex and the City 2 turns 10 on May 27. Watch it here.
Read Next: A Love Letter to New York: Some of the Most Pivotal Moments in American Fashion