As if Ikea didn't already have enough of a presence in our daily lives (can you honestly say that you know somebody who doesn't own at least one Billy bookcase or Frakta tote?) the Swedish brand has upped its influence once more with two new collaborations – with Off-White's Virgil Abloh and Byredo's Ben Gorham.
The furniture giant's Ikea Today platform revealed an image of Abloh with a new prototype of the famous Frakta tote, this time in beige rather than the bag's classic blue, at Ikea's Älmhult prototype shop. "We're in a moment where Ikea is transcending, and people are bringing this 'do it yourself' culture to the blue bag. What I'm most interested in is doing that process in partnership with the brand," Abloh said. "It's allowing me to put my opinion on a classic. It's unique, and distinctly as much of Off-White as it's Ikea."
The "do it yourself" culture cited by Abloh presumably refers to the launch of Balenciaga's Arena tote – a £1,705 leather shopper in a similar shade of blue and bearing the same double-strap design as Ikea's famous 40p tote, which made headlines earlier this year. When customers quickly picked up on the similarities via social media, Ikea responded with customary humour, posting a guide to "how to identify an original Ikea Frakta bag" on its website. "Shake it – if it rustles, it's the real deal," it stated. The Frakta bag was also redesigned by Hay Copenhagen last year, who reworked it in forest green and white.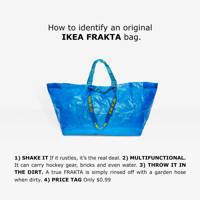 Abloh's collaboration with the brand is also said to extend to a furniture collection aimed at millennials moving into their first homes, echoing a previous call from Kanye West (who, incidentally, works frequently with Abloh) to work with Ikea on "a minimalist apartment inside of a college dorm" in an interview with BBC Radio 1. As if Ikea furniture weren't already ubiquitous enough in students' bedrooms, West predicted his fanbase would have an appetite for his own take on Swedish minimalism: "Yo Ikea, allow Kanye to create, allow him to make this thing because you know what, I want a bed that he makes, I want a chair that he makes," he said.
And who can blame West – and others – for expressing their desire to team up with a brand which has managed to infiltrate the lives of so many? With over 300 stores around the world, Ikea's pared-back Scandi designs are so familiar that many of us can identify them at a mere glance – last year The New York Times's T Magazine revealed that the company sells a set of its Billy bookcases every 10 seconds, whilst one in 10 Europeans is said to be conceived in an Ikea bed.
We'll have to wait to find out what Ikea smells like – aside from Swedish meatballs and MDF, that is – but for now, if you don't already own a classic blue Frakta, we suggest you snap one up.
Originally published on Vogue.co.uk